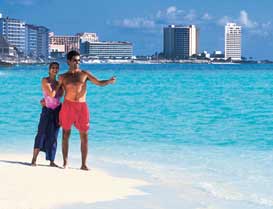 Romance is closer than you think
An endless strip of moonlit beach. Stars sparkle in the night sky. Cool sand beneath your toes as you walk, hand in hand. Romantic, unforgettable, timeless. Come stroll under the stars, together. In Cancún, romance is closer than you think!
Who would think that heaven is two air-hours from most USA air hubs? Or an easy connection from just about anywhere in the world? A candle-lit dinner seaside for just the two of you is waiting. International cuisine, fine wines and champagnes and warm, friendly service. Honeymoon and presidential suites overlooking the breathtakingly blue Caribbean or the lush emerald Lagoon. Are you ready to fall in love all over again?

Weddings, honeymoons or just romantic getaways, there's nothing like Cancún to get hearts beating. What's your passion? A moonlit cruise on the bay, lagoon or seaside stroll? Exploring ancient ruins or nature's finest theme parks together? There's also every water sport imaginable waiting for the two of you!
Find just the right souvenir and, of course, that special something that says 'I love you', Cancún's ultramodern shopping centers and villages have duty free prices on jewels, silver and unique designs from the world over.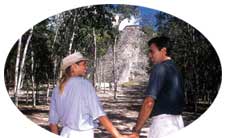 Thinking about tying the knot? Re-tying the knot? Make it unforgettable. It doesn't get any more romantic than the Mexican Caribbean. And we can handle everything – accommodations, ceremonies, catering, civil services, you name it. We're ready for a quiet ceremony at sunset for just the two of you, or with family and friends, or a dinner reception for thousands. Tell us what you want, and we'll make it happen.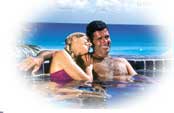 Explore together. Experience together. Or do nothing at all. Together. In Cancun. Romance is closer than you think
Come experience the Mexican Caribbean for yourself! Cancún is a marvelous blend of culture, convenience and security all in a world-class infrastructure.